Workizer Work Products specializes in products for the Utility, Mining and Construction Industries.
Since its inception in 1984, Workizer Work Products has re-engineered how to cut rock with innovative solutions. Our products range from specialized Pole Hole Drills, Augers, to saftey equipment and crusher parts. If it is used in the Utility, Construction and Mining industries we can supply it and we stand behind all the products we manufacture and sell.
Custom Engineered Augers
All of our Augers are custom engineered and manufactured at our facility. Our decades of in-the-field experience gives us an advantage in our custom designs. We guarantee our Augers to outperform any other.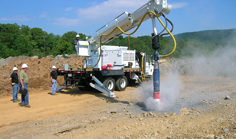 Pole Hole Drills
We are a leader in Pole Hole Drill technology and applications. Find out more about our offerings and recent successes.

Recent Updates
ICUEE Trade Show -- Oct 1-3, Louisville, KY (Booth 3511)

International Lineman's Rodeo and Expo -- Oct 16-19, Overland Park, KS (Booth 101)

Engineers and Superintendents Association Annual Meeting -- Oct 23-25, Oklahoma City, OK

See our Rock Hammer Drills in action on YouTube!